News
Wholesale Energy Prices Update 4/1/2019
Once again, the market saw a quieter (and shorter) week, with the majority of the energy complex barely moving. This was despite oil's sharp recovery, instigated by signs that Saudi Arabia reduced exports in December, appearing to reinforce OPEC's announced cuts. We still look to be heading toward a possible global slowdown, considering the ongoing bickering and trade wars which appear likely to trim demand. Europe's forecast of continued mild weather, good January stock levels and falling carbon prices have offset oil's bullishness. Brent finished up 7% on the week at $57.06 a barrel

At home, despite the drop in temperature, the gas system continued to be healthy with Norway providing a strong supply  and LNG cargoes continuing in January. The more wintry weather looks to be moving as far back as late January and February. Once again, electricity tracked gas for the majority of the week, but with wind output varying. Coal, on the other hand, maintained its downward trajectory and carbon prices fell when trading resumed after Christmas.
Mid winter weather pulls prices back
All the contracts showed minor falls on the week, but the current mild winter, combined with strong storage levels, prompted significant falls for the immediate year with the removal of further risk premium. Further out, curve prices saw minimal falls with oil bouncing back, but coal saw further declines. For the remainder of this winter, prices also fell, reflecting the delayed onset of the cold weather.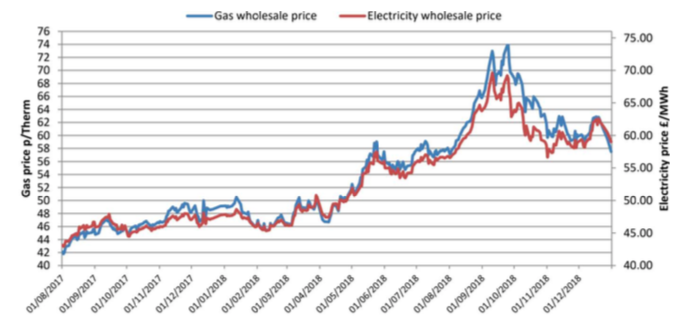 With the likelihood that the Leave vote will be happening next week, Brexit will probably reimpose its influence on prices again. However, the weather and similar fundamentals will continue to be a major factor. Those who are risk-averse may consider not waiting on these outcomes as either negative weather or Brexit could raise prices. However, those comfortable with some risk may benefit if an acceptable Brexit deal is reached.
Published by Utility Helpline on
Talk to us about how we can save you money