News
Wholesale Energy Prices Update 25/01/2019
Exaggerated reports about an extended cold spell and a brighter outlook for the pound caused prices to fall again last week. European gas systems coped will with a cold snap and storage levels look strong for this time of year, so a shortage that would increase prices seems unlikely. Oil prices, which influence gas and electricity prices, went into a holding pattern. As US oil production and storage volumes increased to offset potential OPEC reductions, markets seem to be waiting for a firm direction. Any escalation to the ongoing political disruption in Venezuela could reduce more production from output. As traders found reasons to be optimistic about Britain's chances of getting a Brexit resolution, the pound increased by almost 2% across the week. Brent closed the week down 1.7% at $61.64 a barrel.

UK Business Gas Prices Fall in Winter
In the UK, demand for gas hit its winter peak so far, but supply from the North Sea and LNG coped well and there was no need for supplementary supply from European interconnectors. Reasonable wind output kept electricity supplies healthy. Britain's imminent commissioning of the new 1,000 MW NEMO interconnector with Belgium will make it easier to share energy with Europe and should shore up supplies in the future. The price of carbon also fell. This was aided by Germany's announcement that it would quit coal generation by 2038 at the latest. All contracts fell sharply last week. The cold snap had little impact on supplies and oil and carbon prices both put downward pressure on prices.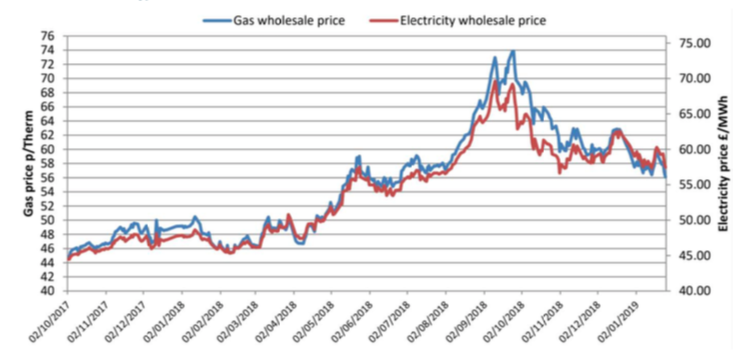 Weather is currently the key driver of prices. And with temperatures forecast to return to their seasonal norms, the risk of a particularly frosty winter is decreasing. The situation surrounding Brexit remains tentative. Although the pound increased in value last week, it could just as easily fall if negotiations hit a stalemate. With prices falling, risk averse clients may not want to take the wait and see approach. But those with a bigger appetite for risk may find that prices descend further on mild weather and supply stability.
Published by Utility Helpline on (modified )
Talk to us about how we can save you money