News
Wholesale energy market update 14/10/16
Again we have seen a  week of volatility in the markets as currencies continue to fluctuate. However, some of the hysteria over oil prices calmed as traders assessed in detail whether a tangible  decrease in oil output could happen. Although prices started rising, the noises coming out of Moscow implied its not very likely they will cut their output. In fact, record OPEC output last month. added to the first rise in US inventories for 6 weeks. pulled prices back down, despite big draw downs in US fuel product storage pushing the other way. There was little movement in the closing price of Brent at $51.95 a barrel.
The table and graph below shows the forward annual gas and electricity pricing.
Again we saw a short gas system in the UK for the majority of the week, on top of the price pressure compounded by falling Sterling. Issues at some Norwegian gas installations inflated prices with help from oil. The price of electricity also rose pushed by higher gas, coal and carbon prices and the news that two further power stations were experiencing outages. All contracts moved up on the week, albeit not as markedly as in recent weeks.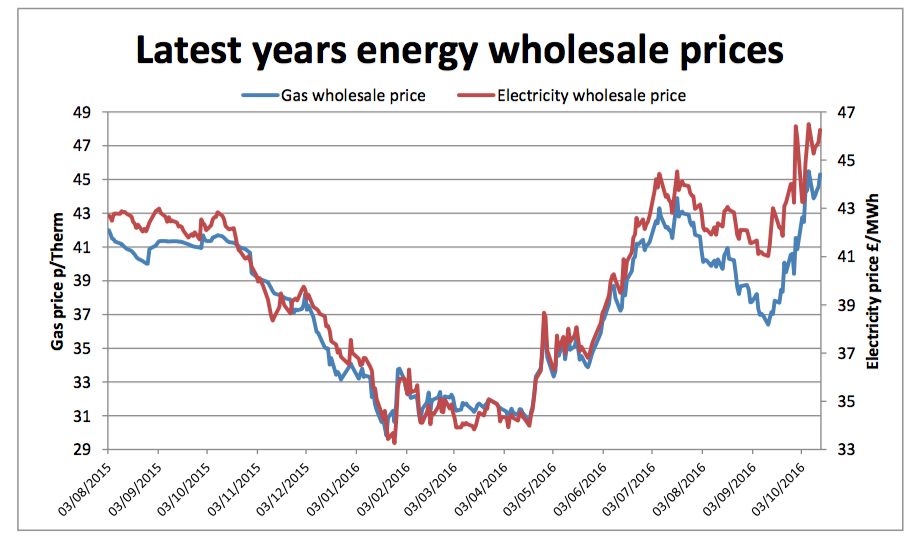 The political and commodity news kept the markets volatile and this trend will probably continue - at least in the near term until OPEC reveals the full details of proposed cuts after this week's meeting. Delivered gas prices, especially, remain lower than in other years. Those clients who don't mind taking a risk could consider waiting to see what direction the market takes before fixing contracts.
Published by Utility Helpline on (modified )
Talk to us about how we can save you money