News
Wholesale energy market update 11/11/16
UK energy market week
Energy markets witnessed a distinct reversal last week after the shock election result. The impact was exacerbated by currency movements and speculation over OPEC's next moves. Once the election result was confirmed, markets struggled and there were sharp falls. Despite a recovery, the strengthening pound against the Dollar, coupled with the Euro collided with additional rises in US oil inventories, and this pushed prices back down. OPEC announcements about record production levels at a time when cuts are being discussed could cause problems with their own agreement as a member.  Trumps previous comments in support of increasing US production and energy independence exerted further pressure on OPEC to reduce their supply. Brent closed down 2% at $44.75 a barrel.
The table and graph below show the forward annual gas and electricity pricing.
This week, the UK gas system was very long, on the back of milder weather and lower power station demand pushed prices down. Following suit were electricity prices followed suit. However, continuing to buck the trend were shorter dated prices amidst ongoing concern over French nuclear generating stations. There were sharp falls across all contracts on the week, however quarter 1 of next year stayed steadier than others.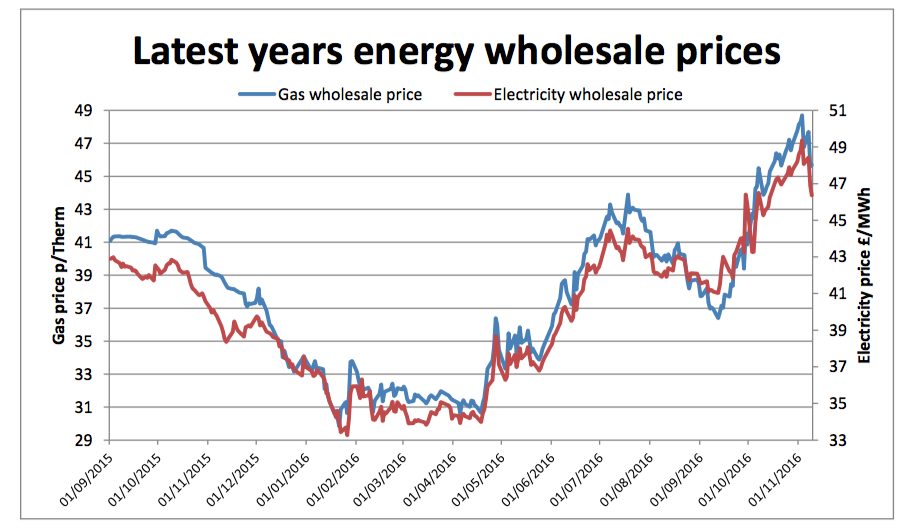 Energy market summary
Overall, a bearish week accompanied by potential long term effects from the coming shift in US policy. This will be likely to impact currency movements as well as UK energy prices. Our recommendation is wait and see what direction markets could take prior to making decisions on fixing subsequent contracts. Donald Trump's unexpected victory has put the cat among the pigeons.
Published by Utility Helpline on
Talk to us about how we can save you money