News
Wholesale energy market update 07/10/16
We've seen a week of large price rises in volatile markets and this led to surging energy prices right across the complex last week. Prices kept rising throughout the week as the Pound dropped steeply following the government's Brexit announcement and continued to fall. The price of oil has also continued its rise following on from the OPEC meeting. There was another weekly fall in US inventories, which dropped to below 500 million barrels. However, later in the week, oil prices softened somehow as doubts lingered about OPEC's ability to carry out the planned cuts. Brent closed the week 6% up at $51.93 a barrel.
In the UK, Sterling's fall and the rising oil prices dominated the front pages. The gas market was long all week but the prospect of a possible workers strike in Norway inflated prices midweek whilst the oil market supplemented the pressure. Electricity prices diverged from gas once again over fears about supply after a nuclear power station went off line in the middle of the week, fuelling concerns about generation margins through winter. All contracts gained considerably on the week, with the shorter dated contracts increasing by almost 10%.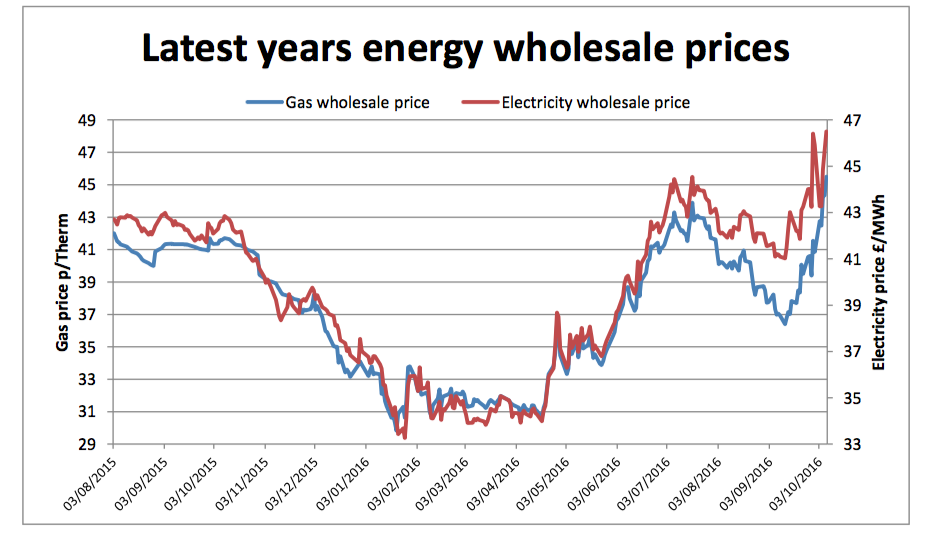 Volatility has continued on both political and commodity headlines in addition to winter supply concerns. This will probably continue in the near term until OPEC reveal further details of cuts and the traders' fever around Brexit calms down. Therefore, clients should consider pausing before fixing their energy contracts.
Published by Utility Helpline on
Talk to us about how we can save you money