News
Business Energy Prices – May Roundup
Wholesale business energy prices continued on a steep upward trajectory in May, driven by geopolitical events that have spooked markets. On the domestic energy market, rising wholesale costs prompted SSE to join rivals
and increase bills for household customers
. Typical dual fuel customers will see their prices increase by around £76 a year from July. When it comes to re-contracting, many businesses are likely to face similar price hikes this year. Prices have been pushed up by a number of drivers, particularly the price of crude oil, which has increased from a low of $30 a barrel in 2016, to $80 a barrel this month.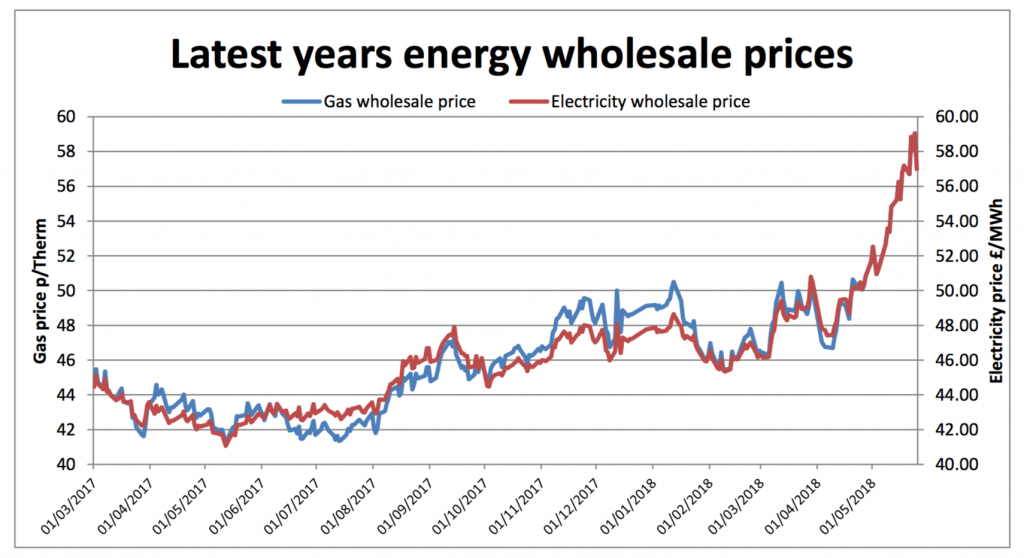 The price of crude has been influenced by a series of significant international events. In the first part of the month, the world waited to see whether Trump would pull out of the Iran nuclear accord and reimpose sanctions on the country. Suspicions that the United States would pull out of the agreement were confirmed on May 8
th
in an example of increasingly unpredictable Trumplomacy. Later in the month, an agreement between Alexander Novak, Russia's energy minister, and Khalid l-Falih, his Saudi counterpart agreed to increase their output for the first time since they began cutting production n 2016. Kuwait
interpreted
this as an attempt to limit oil price rises and placate some of the Trump-Iran fallout. The International Energy Agency gad warned that it expects the oil price to rise to curb demand and there were warning signs that a $100 a barrel oil price could trigger a world recession. Political problems in Venezuela and issues in Nigeria also contributed to output shortages. Gas prices in the UK were influenced by a series of planned and unplanned outages across Europe. Towards the end of the month, the flow of gas into the UK was reduced to zero because of outages in the North Sea and Kolsness. This prompted a release from gas storage and lead to short term price increases. This was all in spite of the fact that the UK enjoyed fairly warm weather throughout May, reducing demand for gas. The market also faced up to strong concerns about winter 2018, with short and medium-term contracts rising over the month. The cause of the concern is whether the UK will be able to replenish its gas storage levels before the winter, so that the country has more flexibility when gas demand is at its peak. The UK's gas storage capacity has been diminished in recent months with the closure of the Rough storage facility, which was the UK's largest. This creates more uncertainty for Winter 2018.
Published by Utility Helpline on (modified )
Talk to us about how we can save you money