News
Anna Celebrates Ten Years at Utility Helpline
One of Utility Helpline's longest-serving employees celebrates ten years at the company this year. Time has flown by since administration and operations manager Anna Keirle joined the company in May 2008.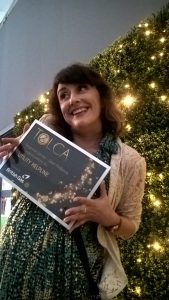 Utility Helpline energy manager Richard Bonelle said: "Anna is the ultimate behind-the-scenes fixer, making the rest of us look good on a daily basis. "She joined while the company was in its infancy and all of the processes and tools we use every day were introduced by her. I don't think anyone in the office would want to work without Anna there making sure things run smoothly." The team will be heading out for some food to celebrate. Anna had a broad range of jobs before joining Utility Helpline. She worked as the duty manager of a hotel in her native Cornwall. She also worked as a field sales manager for ITV Digital and as a national store merchandiser for Dixons. A rich and varied work history was the perfect preparation for Anna's current role, where she always has to be on her toes. Anna said: "All of my jobs were totally different, but they were also very similar in some ways. In every industry attention to detail is critical and the customer is always paramount. "Customers essentially outsource their energy decision making to us, so it's a lot of responsibility. My role is to make everyone else's lives easier, so they can concentrate on saving money for customers. "I do get a feeling of satisfaction from saving people money but the thing I like most about the job is working in such a small and caring team – and the corporate rugby tickets aren't bad either." Utility Helpline celebrated its tenth birthday in 2016.
Want to speak to other members of the Utility Helpline team? Call us today to speak about your business' energy needs. Call: 0800 043 0423.
Published by Utility Helpline on (modified )
Talk to us about how we can save you money