News
New tool compares business energy customer service
Citizens Advice has produced a new business energy complaints league table, to identify business energy heroes and villains when it comes to complaints and customer service. The new table, compiling data from July to September 2016, allows small business owners to quickly and easily compare suppliers based on how many complaints they receive, the seriousness of those complaints and how good they are at responding to complaints. The independent advice service, which has previously had success with a domestic version of the scheme, found that Extra Energy was by far the worst provider. Meanwhile E.ON was named the best performer based on the new league table's first quarterly figures with SSE coming in a close second place.
The simple way to compare business energy customer service
The league table makes comparison easy. It gives each supplier a ratio based on the number of complaints they received, the seriousness of those complaints and how long it took them to resolve them. Firms with lower complaints ratios are better at resolving complaints than those with high scores. The table gave each supplier a ratio score per 10,000 customers. E.ON received a complaints score of just 21.1 for every 10,000 customers, while Extra Energy received an astonishing1225.4 complaints per 10,000 customers. It compares the performance of the 15 largest energy firms, providing energy to 10,000 or more small non-domestic customers. Small businesses are defined as have ten or fewer staff and a turnover of less than £1.7 million.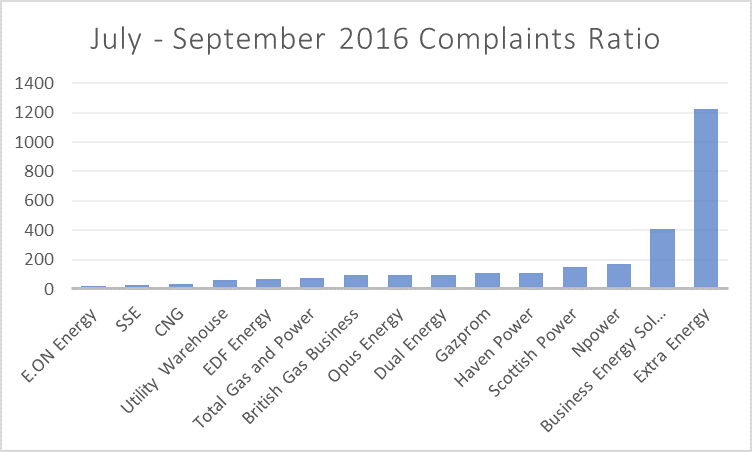 Information from Citizens Advice.
Extra Energy's high ratio is largely to do with them sending out large 'catch-up bills' and demanding quick payment. Citizens Advice is encouraging small business owners to take the complaint's ratio into account when choosing a supplier, and asks them to use the independent comparison tool to make an informed choice. Citizens Advice Chief Executive, Gillian Guy, said: "Small businesses are a linchpin of the UK economy and it's vital they have the support they need to thrive. "Small business owners depend on the smooth running of essential services - such as gas and electricity - to run and grow their firms. If things go wrong with energy suppliers it can cause delays and financial stress, so it's crucial problems are sorted out swiftly and effectively. "Citizens Advice's new complaints league table will give business owners an independent tool to judge which energy suppliers are dealing with customer issues well. "Energy suppliers should look at how they can drive up customer service standards across the board for their business customers."
Energy broker Utility Helpline takes complaints against suppliers seriously. We work with 20 handpicked suppliers to make sure our customers get a high quality of service from their final energy company.
Learn more about our business energy procurement services or get in touch to arrange a quote.  
| | | |
| --- | --- | --- |
| Rank     | Supplier                                               | Ratio |
| 1 | E.ON Energy | 21.1 |
| 2 | SSE | 29.0 |
| 3 | CNG | 34.2 |
| 4 | Utility Warehouse | 59.4 |
| 5 | EDF Energy | 68.9 |
| 6 | Total Gas and Power | 74.7 |
| 7 | British Gas Business | 93.2 |
| 8 | Opus Energy | 95.6 |
| 9 | Dual Energy | 96.2 |
| 10 | Gazprom | 110.0 |
| 11 | Haven Power | 111.8 |
| 12 | Scottish Power | 152.3 |
| 13 | Npower | 169.2 |
| 14 | Business Energy Solutions (BES) | 411.4 |
| 15 | Extra Energy | 1225.4 |
Information from Citizens Advice.
Published by Utility Helpline on (modified )
Talk to us about how we can save you money